The National Park System is a big draw for traveling in the United States, both for residents and for attracting visitors from abroad.
When you visit Washington State's National Parks, you'll find everything from beautiful views over a variety of landscapes, magnificent wildlife, and interesting historical sites. The state has numerous parks to visit, including national parks, national historical reserves, and national historical parks, giving visitors a great deal of choice when it comes to what they can see or do when traveling around Washington State.
From exploring some of the country's most beautiful scenery to learning about some of the most important events in Washington State history, the Washington State national parks are a wonderful addition to any trip to the region. To help you plan how to visit the various sites, here is a guide to discovering the National Park sites in Washington State.
Ebey's Landing National Historical Reserve
As the gateway to the Puget Sound, it's easy to think of Ebey's Landing National Historical Reserve as charming today as in must have been when American pioneers explored the area back in the 18th century. The historical landscape of the park today looks just as it did back then. With an active farming community, you can see the historic farms which still continue to operate today.
There are also three state parks within the historical reserve – Fort Casey State Park, Fort Ebey State Park, and Ebey's Landing State Park. All are worth exploring.
While you're in the neighborhood, the historic town of Coupeville is worth checking ou. We recommend spending time wandering the historic wharf and downtown Front Street, browsing in the locally owned shops, and, if you time in right, shopping for fresh locally-grown produce at the weekly Farmer's Market.
You may also want to head over to Island County (covering the San Juan islands) to mountain bike along the Kettle Trails and visit the Island County Historical Society and Museum.
Location: Coupeville, Washington
Hours: There are no set opening hours for the reserve, but individual businesses and parks within the reserve set their own hours.
Entrance fees: General entrance to Ebey's Reserve is free. Entrance to the three state parks requires the Washington State Park Discover Pass.
Fort Vancouver National Historic Site
Once the administrative headquarters and main supply depot for the Hudson's Bay Company's fur trade, Fort Vancouver holds great significance in US history and culture. When American immigrants arrived in Oregon County in the 1830s and 40s, Fort Vancouver is where they would pick up their essential supplies so they could begin their new settlements.
Fort Vancouver National Historic Site is made up of four major sites – Fort Vancouver, the US Army's Vancouver Barracks, Pearson Air Musem, and the McLoughlin House in Oregon City – as well as the park's Visitor Center which brings all of these sites to life through interactive exhibits. Fort Vancouver is a popular spot for school field trips.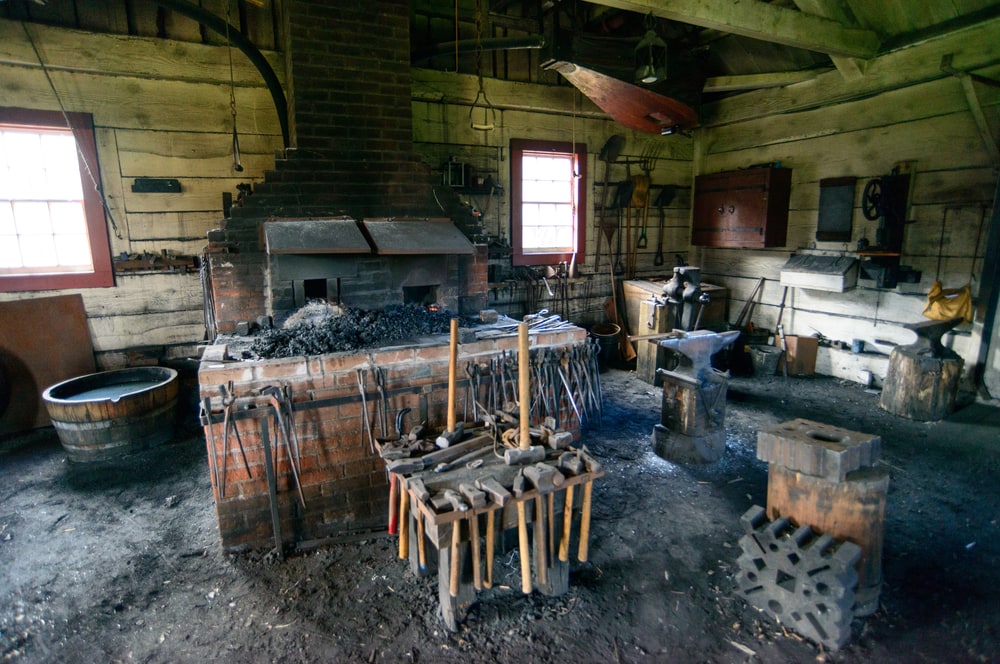 The best way of experiencing Fort Vancouver National Historic Site is through one of the self-guided or guided tours of the complex. There are usually cultural demonstrations offered and popular ones include those at the Blacksmith shop, Bakehouse, and Kitchen. For those interested in historical weaponry, demonstrations and programs take place throughout the year.
Location: Vancouver, Washington
Hours: Tuesday – Saturday, 9 am to 5 pm (4 pm in winter).
Entrance fees: $10 for entrance to the Reconstructed Fort Vancouver.
Klondike Gold Rush National Historical Park
Established to commemorate the gold rush of the 19th century, which succeeded in breathing life into an area that had been hit by economic depression, the Klondike Gold Rush National Historical Park exists mostly in Alaska. The visitor's center, however, is located in Seattle and qualifies as an official site.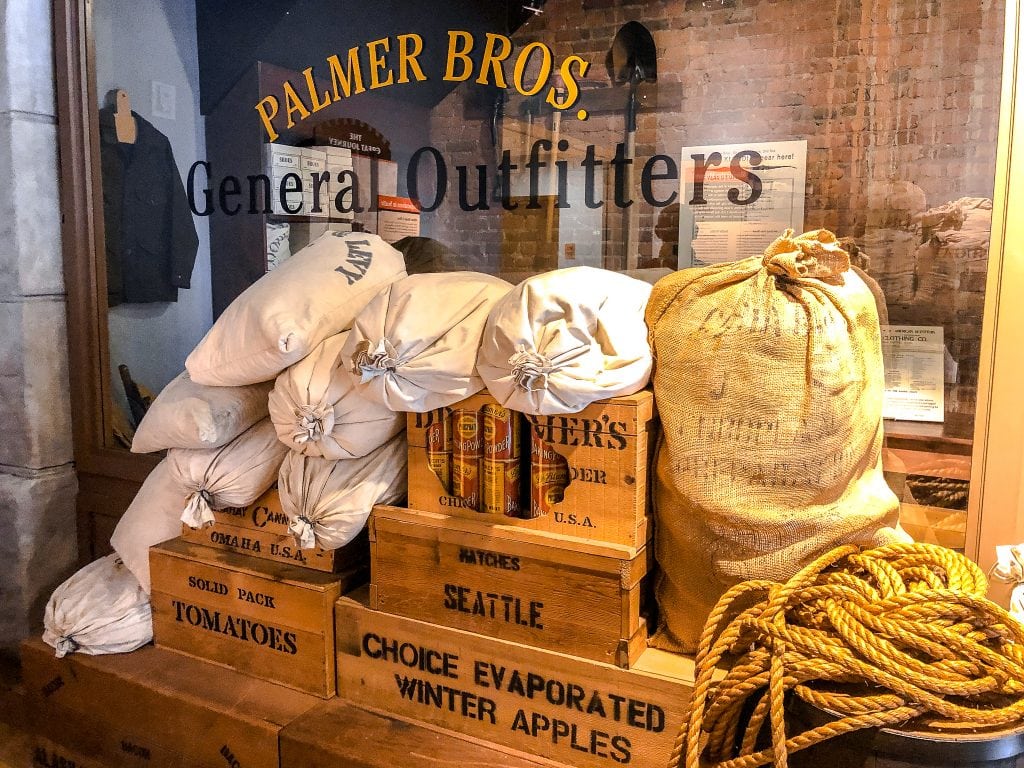 The Visitor's Center is appropriately housed in the Cadillac Hotel, which dates back to 1889 when it was a major point of outfitting and departure throughout the gold rush stampede. Inside are interactive exhibitions and displays about the Klondike gold rush, including free video presentations in the theater.
Location: 319 Second Ave S. (corner of 2nd & Jackson in the Pioneer Square neighborhood), Seattle, Washington
Hours: 9 am to 5 pm daily.
Entrance fees: Free.
Lake Roosevelt National Recreation Area
Created in 1941 after the construction of the Grand Coulee Dam, the Lake Roosevelt National Recreation Area is an ideal place to visit if you are the active type. The lake itself is the most significant feature of the recreation area and offers boating, fishing, swimming, canoeing, camping, and other outdoor activities.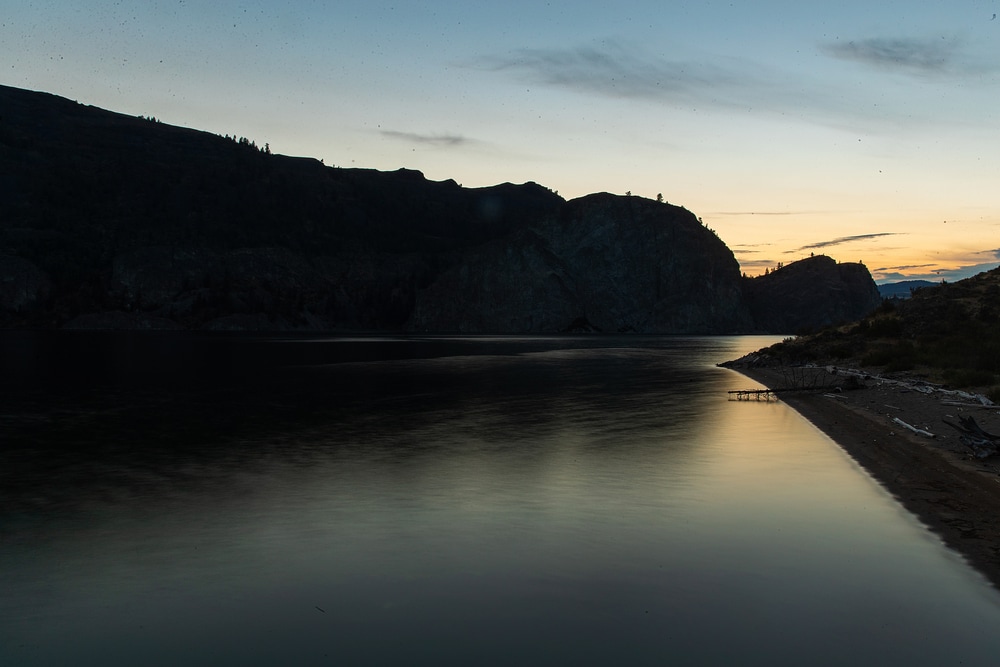 If you want to add a little bit of history to your active trip, Fort Spokane and St. Paul's Mission are both highlights of visiting the park. Built on land with great historical significance, Fort Spokane was established by the US Army in 1880 and was subsequently used as an Indian boarding school and tuberculosis hospital. Today, the Fort Spokane Visitor Center and Museum showcase the history and culture of the area. St. Paul's Mission was a Jesuit mission church built in the 1830s and now stands as a monument of the Catholic presence in the Kettle Falls area.
Location: Coulee Dam, Washington
Hours: Open 24 hours.
Entrance fees: Boat Launch Week Permit $8. Camping fees vary based on the season.
Manhattan Project National Historical Park
The Manhattan Project was the codename for a secret operation during World War II that ultimately led to the creation of the atomic bomb. Operating over three different sites, the Manhattan Project National Historical Park now helps to preserve this important piece of US history.
The site which exists in Washington State – Hanford Engineer Works – was built to produce large quantities of plutonium. As well as being representative of the work that was carried out here, the Hanford site also aims to explore the results of this top-secret work, including the condemnation of private property, eviction of homeowners, and the adverse impact the work had on Native American tribes in the area.
Guided tours of the site take around four hours, giving you the opportunity to see: the B-Reactor National Historic Landmark, which produced the material for the Trinity test and plutonium bomb; Hanford High School and Hanford Construction Camp Historic District; Bruggemann's Agricultural Warehouse Complex; and White Bluffs Bank and Hanford Irrigation District Pump House.
Location: Richland, Washington
Hours: Mondays – Saturdays between April and September. Times of the tour vary; check the website for more details.
Entrance fees: Free, although you do need to register online, in person or via telephone prior to your visit.
Minidoka National Historic Site
During the early 20th century, although hostility towards people with Japanese ancestry existed, they had managed to make lives for themselves along the west coast of the country. That all changed in 1941 after the attack on Pearl Harbor. People began to suspect that anyone of Japanese heritage could be a spy, and they were rounded up and subsequently sent off to internment camps.
While the main site of the Minidoka National Historic Site is located in Idaho, there is also a memorial in Washington that commemorates the Japanese Americans who were imprisoned at the Minidoka War Relocation Center during WWII.
Bainbridge Island was the first exclusion area to be designated for Japanese Americans, and from there internees were transported to Minidoka. The Bainbridge Island Japanese American Exclusion Memorial serves as a reminder not to allow such acts to happen again. You can learn more at an exhibition at the Bainbridge Island Historical Museum.
Location: Pritchard Park, Bainbridge Island, Washington
Hours: Open year-round during daylight hours.
Entrance fees: Free.
Mount Rainier National Park
As one of Washington State's most iconic natural sights, Mount Rainier National Park is the most popular Washington State National Park. Established in 1899 the Park is also the oldest. While Mt Rainier is an active volcano and an imposing feature in the Cascade Mountain Range, it is actually one of the youngest peaks in the range at around 500,000 years old.
There are many highlights in the park and popular spots include Paradise, Longmire, and Sunrise.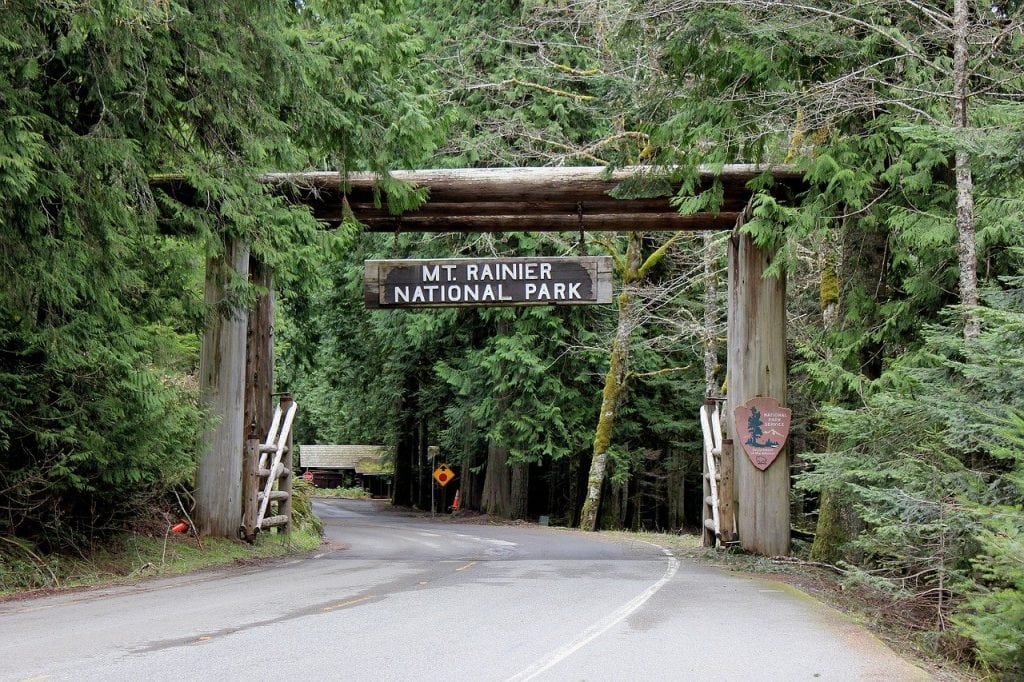 On a trip to Mount Rainier National Park, you'll see impressive landscapes. The park there is home to waterfalls, alpine lakes, glaciers, wildflower meadows, and forests. As with many of the western national parks, wildlife and plant life are in abundance in Mount Rainier. Animals that live here include black bear, coyote, cougar, raccoon, bobcat, mountain goat, and elk, along with numerous species of birds, insects, and invertebrates.
Active adventures at Mt. Rainier National Park include hiking, mountaineering, and backpacking.
Location: Ashford, Washington
Hours: Many facilities and roads within the park operate seasonally and close during the winter. To keep up-to-date, check the road status online before your trip.
Entrance fees: Hikers/pedestrians/cyclists $15; motorcyclists $25/single, non-commercial vehicle $30. There are additional fees for campers.
North Cascades National Park
Less than a three-hour drive from Seattle is the opportunity to explore one of the most beautiful alpine terrains in the US – the North Cascades National Park. While not as popular as some of the other national parks in Washington State, this is all to the park's advantage; you get everything you could possibly want from a national park experience without sharing it with hundreds of other visitors.
Often referred to as the North American Alps, here you will find alpine lakes, jagged peaks, glaciers, waterfalls, wildflowers, and forested valleys. Wildlife spotting may include grizzly bear, Canadian lynx, cougar, deer, otter, and mountain goats.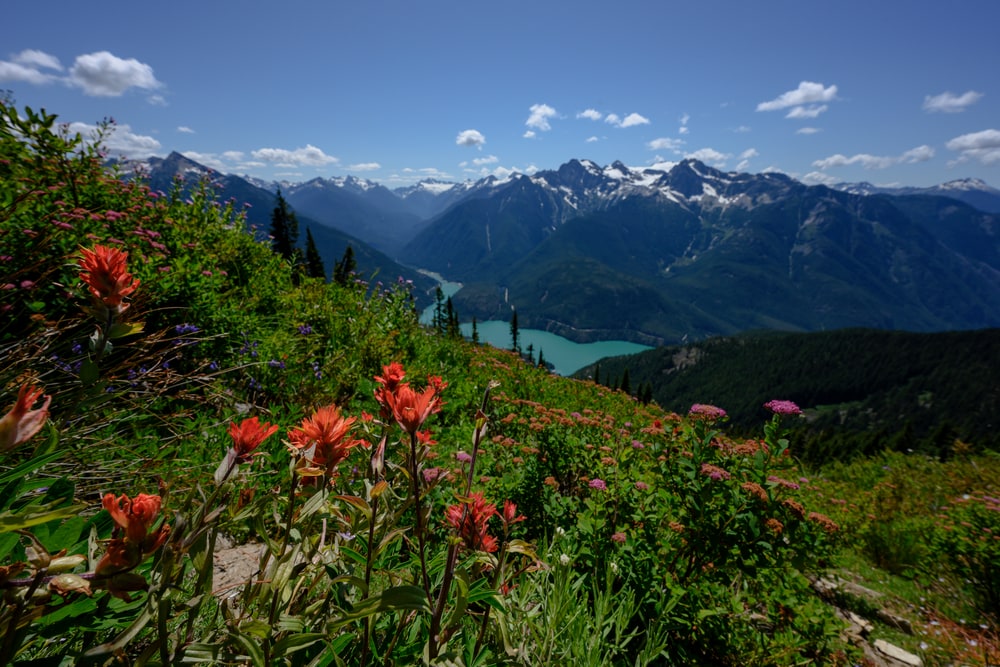 One of the North Cascades National Park's biggest advantages is that there is no entry fee, perfect for those who are hoping to discover the national parks in Washington State on a budget.
The next biggest draw is the range of activities that are possible here. The park is particularly popular with climbers due to the variety of peaks here. Top climbing spots include Glacier Peak, Eldorado Peak, and the Wine Towers of Washington Pass. If you are a first-time climber, you may prefer to ascend easier summits such as the Boston Glacier and Sahale Peak. The North Cascades also has some of the finest hiking trails in the state and were once travailed by three of the country's best beat poets – Jack Kerouac, Philip Whalen, and Gary Snyder. The park also has snowfall all year round, making it a great destination for skiing and snowshoeing.
Location: 810 State Route 20, Sedro-Woolley, Washington
Hours: The National Park itself is open 24 hours a day, although during winter roads will likely be affected by closures.
Entrance fees: Free.
Olympic National Park
The United States' fifth most visited national park, Olympic National Park is unique in that it is comprised of three very different ecosystems – lush rainforest, rugged coastline, and glaciated mountains. Despite being one of the most popular national parks in the country, its immense size means that the park never feels overcrowded.
The locals have broken down the rainforest area into three parts – the Hoh, Queets, and Quinault – all of which offer different experiences for visitors, from climbing the park's tallest peak in the Hoh to admiring the stunning waterfalls of the Quinault.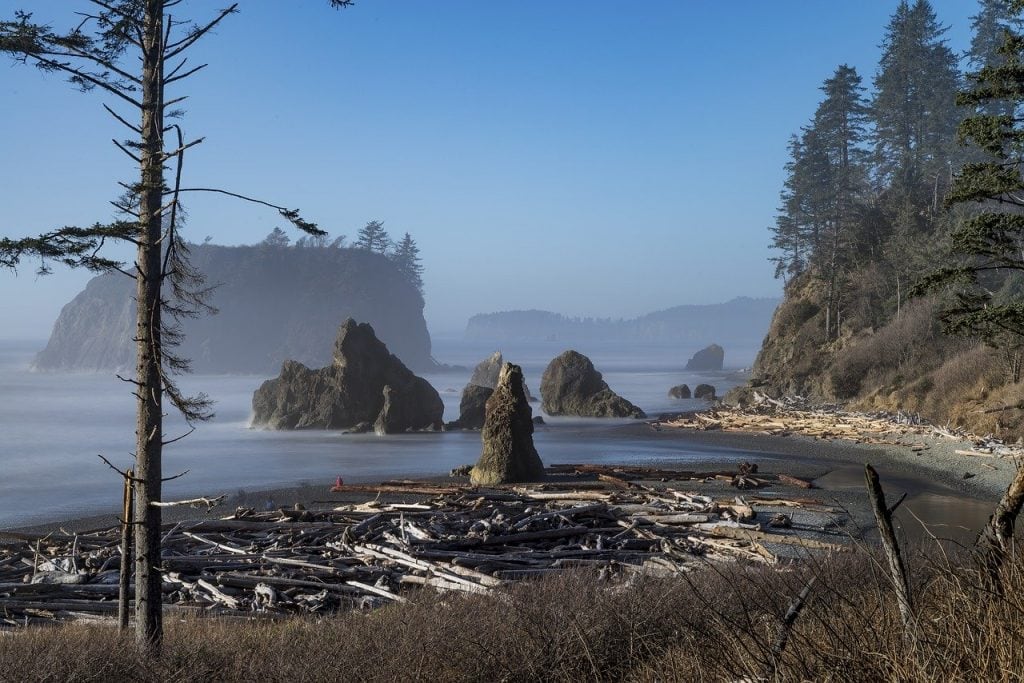 Because of Olympic National Park's different ecosystems, the wildlife here is varied, perfect for those who wish to add wildlife spotting to their Washington State national parks itinerary. Here you can get the chance to spot whales, sea otters, beavers, bears, golden eagles, and more.
When it comes to activities, much is on offer here. One of the best things to do is go swimming in Lake Crescent, easily the best place in the park for such an activity. Hiking is also incredibly popular. There are plenty of trails to choose from, but don't pass up Hurricane Ridge – on a clear day you can see as far as Canada.
Location: Olympic National Park Visitor Centre, 3002 Mount Angeles Road, Port Angeles, Washington
Hours: The National Park itself is open 24 hours a day, but some campsites, facilities, and roads are closed seasonally.
Entrance fees: Hikers/pedestrians/cyclists $15; motorcyclists $25/ non-commercial vehicle $30. This fee is valid for seven consecutive days. There are also fees for commercial and large non-commercial vehicles; check the park website for more information.
San Juan Island National Historical Park
One of the last remaining native prairies in the Puget Sound region, San Juan Island is predominantly known as the place where the United States and England once nearly went to war over a pig shot by an American farmer. Known as the Pig War, no shots were fired and there was a quick resolution of the conflict. Nowadays, it is the landscapes – the vistas, woodlands, and shoreline – of the national historical park that most people come here for.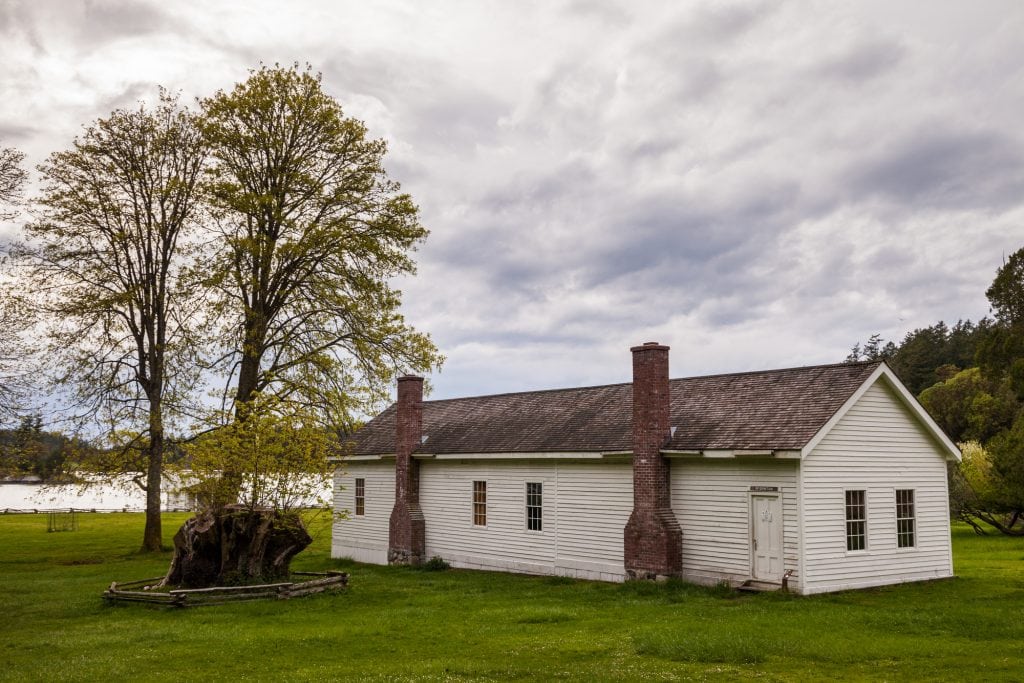 And orca spotting is also high on most visitor to-do lists. In addition to orcas, other species of whales might be spotted (gray, humpback, minke), along with seals, porpoises, and otters. The best spotting time is between April and September.
The park is also a popular spot for birding and is home to diverse species. It wouldn't be unusual to spot bald eagles.
Other popular activities include hiking the trails at the American and English camps, shell collecting, boating, and kayaking.
Location: Friday Harbour, Washington
Entrance fees: Free.
Whitman Mission National Historic Park
Named after Marcus and Narcissa Whitman, the Whitman Mission National Historic Park commemorates the memory of these courageous people, the role they played in the formation of the Oregon Trail, and the challenges they faced when doing so. After a measles outbreak in the mid-1800s among the indigenous Cayuse people, Dr. and Mrs. Whitman were killed and another 40 people taken hostage. Their deaths sparked a shock wave across the country, resulting in Orgeon being made a US territory.
We'd be remiss if we didn't mention that the work of the Whitman's among the Cayuse has been sanitized over the years. The Cayuse were resentful of the encroachment upon their lands and the introduction of disease to their people. The conflict was real and there is an alternative position to that which most of us were taught in school.
Although there are no buildings remaining at the original mission site, walking around the grounds is a pleasant way to spend an afternoon. Here you can also see the Great Grave – where the Whitmans and eleven others were buried in a mass grave – as well as various monuments. There is also a museum that compares and contrasts the lives of the Whitmans and the Cayuse and houses a number of interesting artifacts, such as archaeological finds and items which belonged to the Whitmans.
If you are interested in the Whitmans and this side of Washington's history, you may also be interested in following the Oregon National Historic Trail, part of which runs through Washington State. Over 2,000 miles of trail ruts and traces can still be seen to this day, representing the sacrifices and struggles of the early American settlers.
Location: 328 Whitman Mission Road, Walla Walla, Washington
Hours: Sunrise to sunset. Visitor center opening hours: Winter – Wednesday to Sunday 9 am – 4 pm; Summer – Every day 9 am – 4 pm.
Entrance fees: Free.
Save this to your favorite Pinterest board and refer back to it when planning your trip to visit the Washington State National Parks.