Located in the South Lake Union neighborhood (often abbreviated SLU),the Astra Hotel Seattle opened Fall 2022. The 265-room hotel is part of the Marriot Group's Tribute Collection, with a committed to technology features and functions that make it appealing in the tech hub part of the downtown Seattle.
While visiting tech workers will find the location convenient to Amazon, Facebook, and Google offices, locals will find it appealing for a close-to-home getaway or for its plentiful meeting space.
Rooms boast amenities aplenty, including fiber optic Wi-Fi, 65" flat-screen televisions with screencasting options, an ionic hairdryer, a mini fridge, a handheld clothing steamer, an ergonomic workspace, and mechanized blinds. Intuitive bathroom nightlights make nighttime visits less hazardous. Wifi is complimentary.
Sparky, the robotic butler, can deliver room service, including food, linens, or other supplies to the room. We didn't have a chance to interact with Sparky during this stay. Next time.
We thought the rooms had a space-age vibe. Technology was a part of it, of course, but the sleek minimalism of the decor bolstered it. Designs on all the walls created a cylindrical feeling. It felt like we were on the Starship Enterprise. Or perhaps the Orville.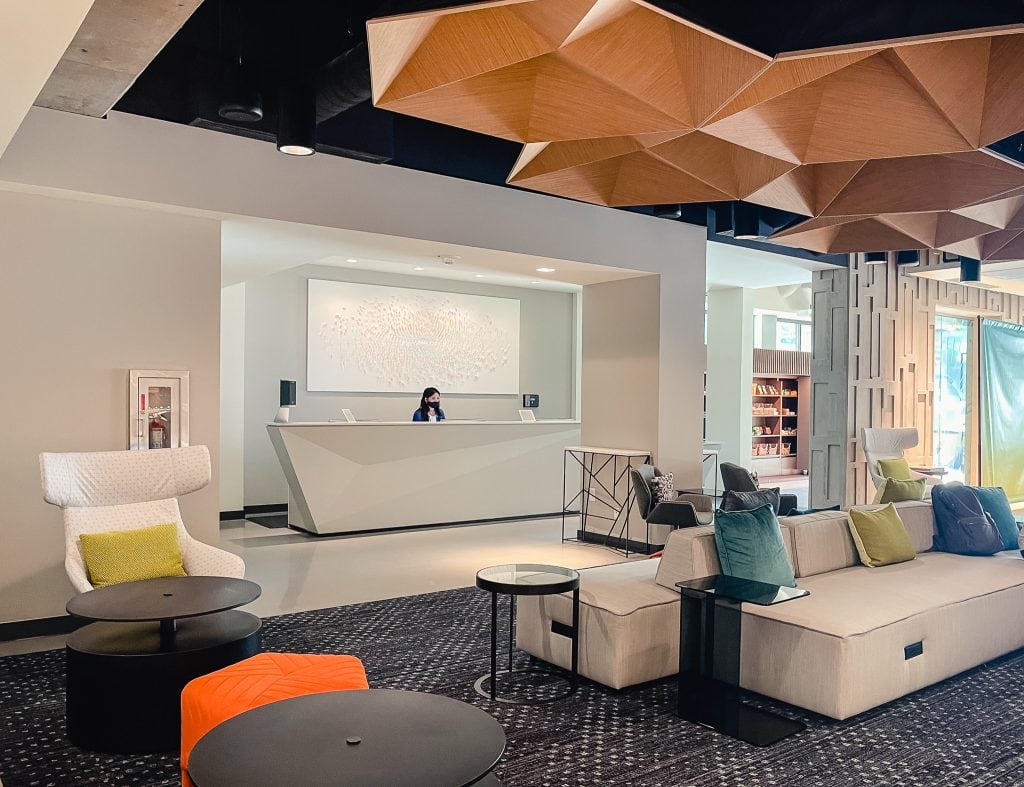 Three restaurants are available. on-site, in addition to the multitude of choices available in the neighborhood.
Caffe Ladro – Located in the main floor lobby, Caffe Ladro offers an assortment of coffee blends and seasonal specialties along with a delicious display of freshly baked goods. Open mornings from 6:30 am-noon for your morning caffeine and sugar fix.
Otium Grill & Greens -Otium (which is Latin for leisure time) is located just off the lobby and serves as the main hotel dining venue. Large windows provide light and openness to the room, which incorporates some industrial chic touches (exposed ductwork, lots of metal) to the decor. This also means the noise level can escalate. Great fun for a group of friends; not as good for a romantic dinner.
Executive Chef Kalen Schramke works with local partners to create menu items that reflect the highest quality and well-cared-for protein choices. Seafood is wild-caught and sustainable. Greens are organic and local.
The craft cocktails alone are worthy of a visit. Tony enjoyed the Necessary Provisions (premium whiskey, chicory, cold brew, pipe tobacco, cardamaro, black walnut, $15). I'm a fan of the Blood Moon (vodka, creme de cassis, quinquina, Earl Grey tea, coriander, lemon, sparkling mineral water, $15).
Otium is currently open for lunch (11 am-2 pm) and dinner (4-10 pm), Monday-Friday. Extended weekend hours should be coming soon.
ALTITUDE Sky Lounge – Sixteen stories up, ALTITUDE is an upscale rooftop bar. with a wrap around deck accommodating impressive views of Seattle, fire pits to stave off the Seattle chill, industrial chic design, and a quality selection of beer, wine, and cocktails. Seattle's young and beautiful will want to drink and be seen here. It is also available for private events.
During Seattle's nice weather, the outdoor section is likely to be one of the hottest tickets in town. Heaters, although limited, will extend the season, but I doubt anyone will be sitting out here in the middle of our winter rainy season. Indoor seating is a solarium-style glass enclosure.
The Details
Address: 300 Terry Avenue North, Seattle
Website: here
Closest light rail: Westlake station, about one mile away
Hotel affiliation: Marriott Tribute Portfolio (Bonvoy loyalty program)
Parking: Valet parking available, space in neighborhood parking lots may be difficult to find.
Rates: Starting around $175/night based on double occupancy. Rates seem to be lower on the weekends.
Disclosure: We attended a press event celebrating the opening of the hotel, which included a complimentary stay.