The Seattle Aquarium is high on the list of fun and family-friendly attractions in Seattle. Deservedly so. Located on Seattle's waterfront, the Seattle Aquarium opened in 1977, with expansion and regular updates, is the 7th largest aquarium in the U.S. (based on attendance).
In addition to its popularity with Seattle visitors, it offers research and scientific programs and is used for meeting and events.
The species collection is proudly shown off in six major exhibits, and here's a little peek at what you'll see along with some helpful tips for visiting the Seattle Aquarium.
Windows on Washington Waters
The first thing visitors see after walking into the aquarium is Window on Washington Waters, a behemoth of a tank (120,000 gallons of water) that is home to over 800 local fish and invertebrate species. The seascape exhibit is viewed through a 20 x 40 window, giving visitors a close up look at life in Puget Sound, and its positioning on a bit of a slant at times makes you feel like you're a part of the exhibit.
You'll likely recognize salmon, eels, anemones, sea stars (remember when we called them starfish?), sea urchins, and coral, but there are plenty of other species to learn about.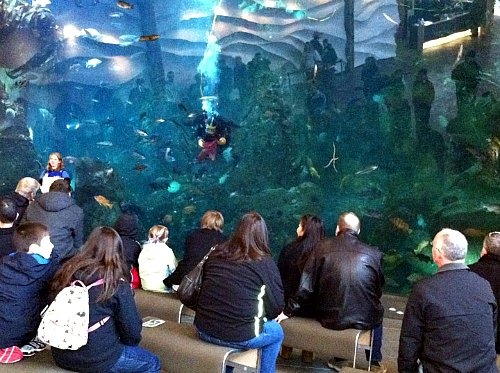 To help in the educational process, divers are available thrice daily (10 and 11:30 am, and 12:15 pm), and by wearing special gear are able to talk to visitors and answer questions. It's fun to watch the divers do a feeding, and the swarming of fish for the food is always a crowd pleaser. The area in front of Window on Washington Waters has benches for sitting and plenty of a standing area.
When a diver display is not going on, you can get right up close to the window. This is one of my favorite areas of the aquarium, and I could sit watching the giant tank for hours.
Life on the Edge
This is always one of the busiest areas in the aquarium as you get a change to learns about some of the weird looking creatures that can be found in the tide pools of Washington's sea coast. You reach into the water and touch these creatures – check out the prickliness of a sea urchin, feel the roughness of the always moving sea stars, brush a sea cucumber, and plenty more.
Naturalists are on hand to point out the various species and to answer questions and have an amazing depth of knowledge. They also monitor the area to make sure that the hands-on experience doesn't harm the eco-system.
It would be easy to dismiss this as merely a child's play area, but that would be a mistake. While there were scavenger hunt games to keep the kids focused, there were also plenty of adults being amazed by the sea life as well.
Pacific Coral Reef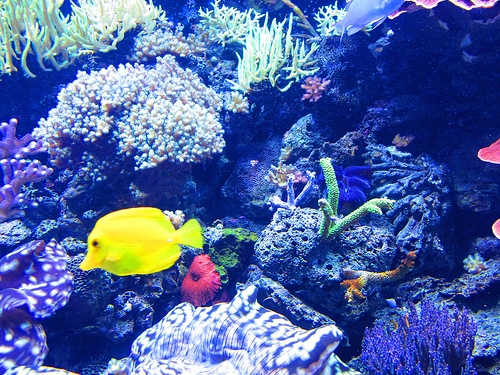 While you might have to travel a little further west to get warm water, this exhibit will give you a close up look at the color life of the coral reef. The exhibit provides both a big picture look at coral reef life, as well as smaller tanks that show specific habitats a little closer up.
Some of the more well-known species are big favorites – puffers, tangs, triggerfish, lionfish (thanks to Finding Nemo) – but there are plenty of lesser-known species that are just as impressive. The coral is just as impressive as the many fish that swim among it, so I hope you'll take time to read some of the displays that explain the danger we pose to this fragile habitat.
Puget Sound Fish and Dome Room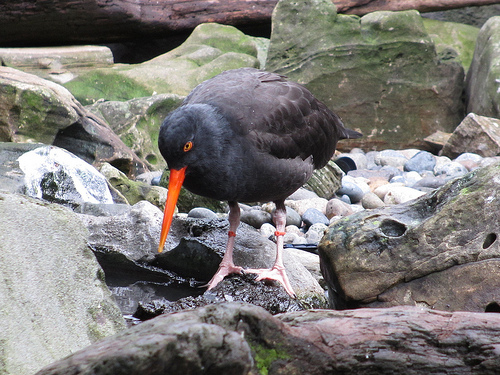 I always enjoy looking at the fish that call Pacific Northwest waters home, and while they make not be as brightly colored as the tropical reef fish, they are just as fascinating.
Three habitats are on display: eelgrass (where you can get a glimpse at creatively names species like spiny lumpsuckers, pricklebacks living in old bottles, pipefish, tubesnouts, and more); deep sandy bottoms, and rocky areas. The transition area also featured a few birds that also call the shores home.
The Dome Room is a great spot to sit and rest for a spell while getting a 360-degree look at life in Puget Sound waters. The immense tank (400,000 gallons) is filled with local species of fish. Grab a bench seat and watch the salmon, ling cod, rockfish, sturgeon, skates, and sharks going about their day-to-day life.
You can get nose-to-nose with the window, an activity sure to get a laugh from the kids. Divers enter the tank to feed the fish (daily at 1:3 pm), along with pointing out the numerous species in the tank and answering audience questions. The daily feeding is a popular event, so get there early if you want a seat.
Puget Sounds Orcas Family Activity Center
The Pacific Northwest is home to a group of orcas, also called killer whales, named the Southern Resident Community which total about 90, and in the Seattle area we'll see orca members of the J, K, and L pods. This educational and activity center tries to creatively teach visitors about these magnificent, beautiful, and endangered creatures through videos, displays, and interactive activities.
Try the orca listening station – you may hear the orcas calling to one another as picked up by underwater microphones located along the Washington coast. Learn how critical clean water and salmon are to healthy orca life. Discover opportunities to help save our water, fish, and orca community through volunteer community projects.
The center has orca trading cards available as a giveaway that will introduce you to the members of our orca community, all of which have been named. You can buy more trading cards, individually or as a full set, in the gift shop. Our sales clerk on our visit pointed out that the full set was actually missing one card – a recent birth in the J pod. It will be exciting to watch for when the baby is identified, photographed, and named.
Marine Mammals
Call me predictable, but seriously – this is my favorite part of the aquarium. This is home to sea otters, river otters, harbor seals, and fur seals, and after spending time in the exhibit, I know the difference between them. Watch these playful creatures from above, below, or right alongside, as they glide, splash, play, or laze away the afternoon. I am enamored by they eat and groom themselves, how they play and interact with others – seriously, I stand here for hours exclaiming how cute they are!
Twice daily feedings are at 11:30 am and 2 pm, and that definitely ups the oooh and aaah factor. Note: One of the seal exhibits was closed, under repair, so a fewer seals were on display.
The aquarium is involved with extensive research work involving sea otters and is the first facility in the world to have a sea otter bred and born in captivity AND live into adulthood. It was also the first to have a northern fur seal bred and born in captivity. These research efforts are critical to protecting these frisky pals in their natural habitat.
Location: 1483 Alaskan Way, Pier 59, Seattle. If you're staying downtown, don't drive the the aquarium – instead, walk down the Pike Street Hillclimb from the Pike Place Market and it will take you directly to the waterfront.
Hours: 9:30 am-5 pm daily (exhibits close at 6 pm). Special hours on holidays.
Admission: $34.95 adults, $29.95 for Washington State residents; $24.95 youth (ages 4-12), $19.95 for Washington State youth residence; FREE for children (3 and under). The Seattle Aquarium is an attraction on CityPass. I recommend checking with your hotel concierge for any discount coupons they might have. We were able to get a coupon for 2 for 1 admission, resulting in big savings for our group of 5.
If you think you'll be regular visitors to the zoo, become a Member. Prices start at $70 for individual up to $179 for a family (two adults and up to six children/grandchildren). Do the math – this can be a GREAT money saving value.
Parking: Waterfront parking is notoriously challenging, and when available, is quite expensive. Numerous Metro bus routes will get you down to the waterfront, or consider parking elsewhere and taking the Hillclimb.