Washington State is the second largest wine-producing state in the United States. With over 1,000 wineries and over 80 varieties of wine from Washington State AVAs, wine production has become a multi-billion dollar business in the state. Wine is big business in Washington State.
Learn more about the wines of Darby Winery with our wine-tasting guide.
Darby Winery in West Seattle is a great urban spot for wine lovers. Located in the West Seattle junction, it's an easy walk to much of the neighborhood, and if you're coming from further away, the reopening of the West Seattle Bridge makes it an easy drive.
The Darby Story
The winery started in 2002 when Darby English, the founder, and head winemaker, began making wine in his basement. His goal was to make the best wine in the state using the best products and winemaking techniques.
Three years later, he started producing wine for commercial sale. With less than 400 cases total, about half Syrah and half Viognier/Roussanne, the supply sold out extremely fast.
One year later, Darby tripled his wine production to 1,200 cases in one year and opened a tasting room. Locals loved his wine then, and they still love it today.
Darby Wines
Current production is around 4,000 cases, focusing on Bordeaux blends, Rhone varietals, and single-vineyard wines. The grapes come from five different vineyards in Washington.
You can see a line up of Darby wines here.
Wine Tasting at Darby Winery – West Seattle Tasting Room
We opted to visit the tasting room in West Seattle, meeting up with friends to enjoy wine and conversation. It's Washington Wine Month (the state celebrates wine month twice a year, in March and August).
The tasting room is located in the heart of West Seattle, just a block off of California Ave SW. It's small, only four high top tables, so we recommend making reservations.
We were enticed by the special tasting menu for the week – Syrah, Syrah, Syrah – a tasting flight of four Syrahs. We are fans of red wines more than white wines, so this jumped out at us an opportunity to have fun event with friends, and to make some purchases for our home wine cellar.
Tasting room staff was engaging and helpful, offering information and answering questions. They seemed interested in making it a fun place as well as a fun experience. We left our tasting with a commitment to return when the rose is released.
There is another tasting room in Woodinville, which is also the winery's production center. We'll schedule a visit there in the future.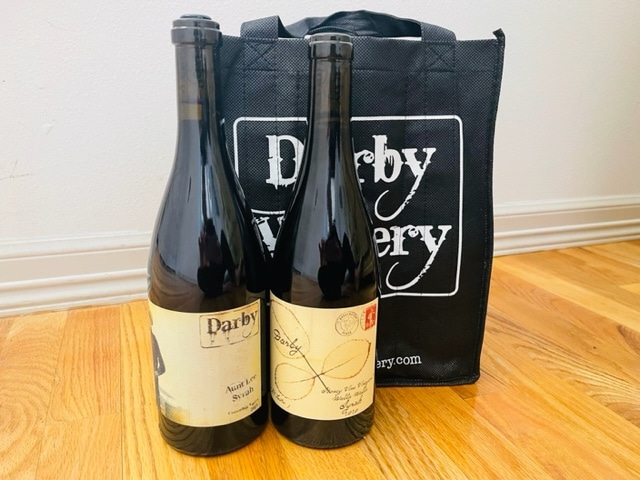 What We Tasted
Our tasting included four syrahs. Additionally, we we were provided a welcome tasting of Rousanne and finished with a tempting taste of a blend available only to wine club members.
We've included winemaker tasting notes and add our personal thoughts below.
2021 Roussanne
Tasting Notes: A bright, elegant medium bodied white wine that invites you in with notes of meyer lemon, melon, fresh apricot and tropical fruit. Nice acidity makes this a wonderful food wine. $27
Our thoughts: On first sip, I wasn't impressed with this white wine. However, it finished strong and I had to eat my words about not liking it. If you reach for white when you want a glass of wine, this is a good choice. While we didn't buy a bottle to take home, our friends did.
2021 Dineen Syrah
Tasting Notes: Beautiful blueberry, blackberry and plum notes combine with a hint of pepper and herbs. Yummy, esy drinking, brighter Syrah. This is served "on tap" $10 glass and $40 liter (about six-seven glasses).
Our thoughts: I like the peppery and herby notes. This is a good all-purpose "house" wine – enjoyable, but nothing spectacular. If you want an affordable, easy drinking, every day wine, this is a good choice.
2019 Dark Side Syrah
Tasting Notes: The newest vintage of this beloved Syrah is a stunner with vibrant fruit notes of blueberry, plum and acai leading into subtle notes of tobacco, chocolate and earthiness with a touch of that special old world funkiness that only comes from The Rocks District! A nice acidity makes this a very food friendly wine! $32 bottle, $12 glass.
Our thoughts: This was my least favorite of those we tasted. I didn't detect that special funk that comes from The Rocks and nothing else really jumped out at me. Perhaps paired with food, an earthy mushroom risotto, I would have liked it more.
2015 Aunt Lee Syrah
Tasting Notes: Each vintage of the gorgeous Aunt Lee Syrah is complex and dark, very old world in style offering floral aromas and ripe dark fruit, pepper, sweet tobacco and smoky minerals on the palate with soft tannins. A beautiful expression of Sryah from Washington. $38 bottle, $12 glass.
Our thoughts: The first sip put a smile on my face. Big and juicy, with tastes of dark fruit that jumped out at me, finishing with a subtle smokiness. It's probably a bit much to sip on its own (although I finished every drop). We purchased three bottles and I'm looking forward to finding a good pairing. This was Tony's favorite (and a big hit with all four of us).
2020 Walla Walla "Rocks" Syrah
Tasting Notes: This impressive single vineyard, swingle varietal, Rocks District Walla Walla Syrah is beautifully aromatic showcasing intoxicating floral notes, stunning dark fruit notes such as boysenberry and blackberry, a grounding earthiness, and addictive funkiness… very old world in style. $55 bottle, $14 glass.
Our thoughts: I've had some great wine from the Rocks District, so I supposed I was predisposed to like this Syrah. It didn't disappoint. Even thought the Rocks' funkiness isn't a palate favorite for everyone, it as a hit with all four in our group. Three bottles went home with us in the six-pack tote bag. I'm looking forward to pairing it with some robust charcuterie, or maybe some slow grilled ribs.
Need to Know:
Location: The West Seattle tasting room is location in the junction at 4308 SW Alaska Street. There is also a tasting room in Woodinville in the Hollywood district (we'll visit there in the future) at 14450 Woodinville-Redmond Road NE #110.
Website: here
Hours: The West Seattle tasting room is open Wednesday-Saturday, 1-8 pm, and on Sunday, from noon-6 pm. The Woodinville tasting room has extended hours. Check the website to confirm schedule for tasting.
Reservations: Recommended (we made them), but not required.
Special policies: Tasting fees are $20/person, waived with a two bottle purchase (or one bottle of Reserve wine).
Wine Club: A variety of options for membership that include limited releases and club member only wines. Purchase requirement is four bottles of wine, three times a year. Membership also included complimentary wine tastings and a discount on wine purchases.
Drink responsibly. Limit your tastes, select a designated driver, or take a cab or ride service when doing wine tasting.
We're not wine experts. We enjoy tasting, learning about, and buying wines for our home cellar. We learn something new every time we visit a winery or tasting room, and we're interested in visiting different wineries here at home (join us a we search for Washington's best wines) as well as when we travel.
In other words, we're probably just like you. Cheers!
This tasting review originally appeared on our partner site, Traveling with MJ.