We've been going to Simply Thai for years, way back to when it was in a different location in a different Southcenter strip mall. The food is consistently fresh and service attentive. There can be a line up during peak hours, and there's always a bunch of delivery drivers there for pick up, so we're not the only ones who have this in our dining rotation.
Location: Simply Thai is located 235 Strander Boulevard, Tukwila. This is a strip mall, just west of the Target store (although in a different parking lot). Official website here.
Menu: The usual suspects you'll find at most Thai restaurants, including various rolls (fresh and spring), satay, soup, noodle dishes, and specialty items.
Thoughts: Whenever we have to make a trip to Southcenter (yes, we still call it that despite it officially name change to Westfield Center), we plan around a stop at Simply Thai. We try to visit at off-peak times to avoid crowds. Our recent visit was for a late lunch (served until 3 pm), and we bundled up extras to take home for a late dinner. The restaurant was still busy, although not at a crowded level.
If I'm coming home from a trip, it's also a frequent stop for a post-flight meal. Nothing says "I'm back home" like a good Thai meal.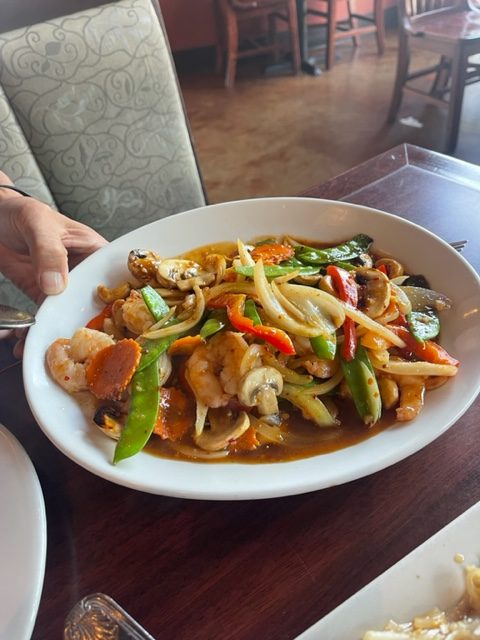 We tend to order the same thing. Maybe we're boring, maybe we just like what we like and it's hard to break the habit. Our order is something like this:
Appetizer to share: Usually spring rolls (Assorted vegetables deep-fried and wrapped in a crisp-fried egg roll wrap). Occasionally we branch out for the fresh rolls (Rice noodles, shrimp, lettuce, mint and cilantro wrapped in rice paper rolls. Served with peanut sauce.).
Soup: I love Tom Kah, and in the winter months, I usually order this to take home with me. Equally good the next day for lunch.
Noodles: I always get phad thai and think they do one of the best versions of it in the area. Lots of fresh veggies, and no catsup used for red coloring. Noodles are my comfort food, and since Tony doesn't it them, I always have extras to take home.
Entries: Tony usually orders cashew nuts with chicken (Sautéed with roasted cashew nuts, bell peppers, onion, mushrooms, snow peas, carrots, and special house sauce.), although occasionally breaks up the pattern with Gar-Tiem with chicken (sautéed with broccoli, carrot, roasted garlic, and black pepper.). I occasionally order the Panang Curry
Price: The only complaint that I hear about Simply Thai relates to price. This is not your cheap Thai eats place. It's high quality, made-to-order and stacks up favorably to all the best Thai spots in town.
You get what you pay for, and while this won't break the bank, you should know before you go. Prices range from $8 for an order of five spring rolls to $15 for chicken phad thai, from $15 for chicken panang curry to $18 for prawns with cashew nuts. Worth every penny, which why we always return.
Pin to your favorite Pinterest Boards